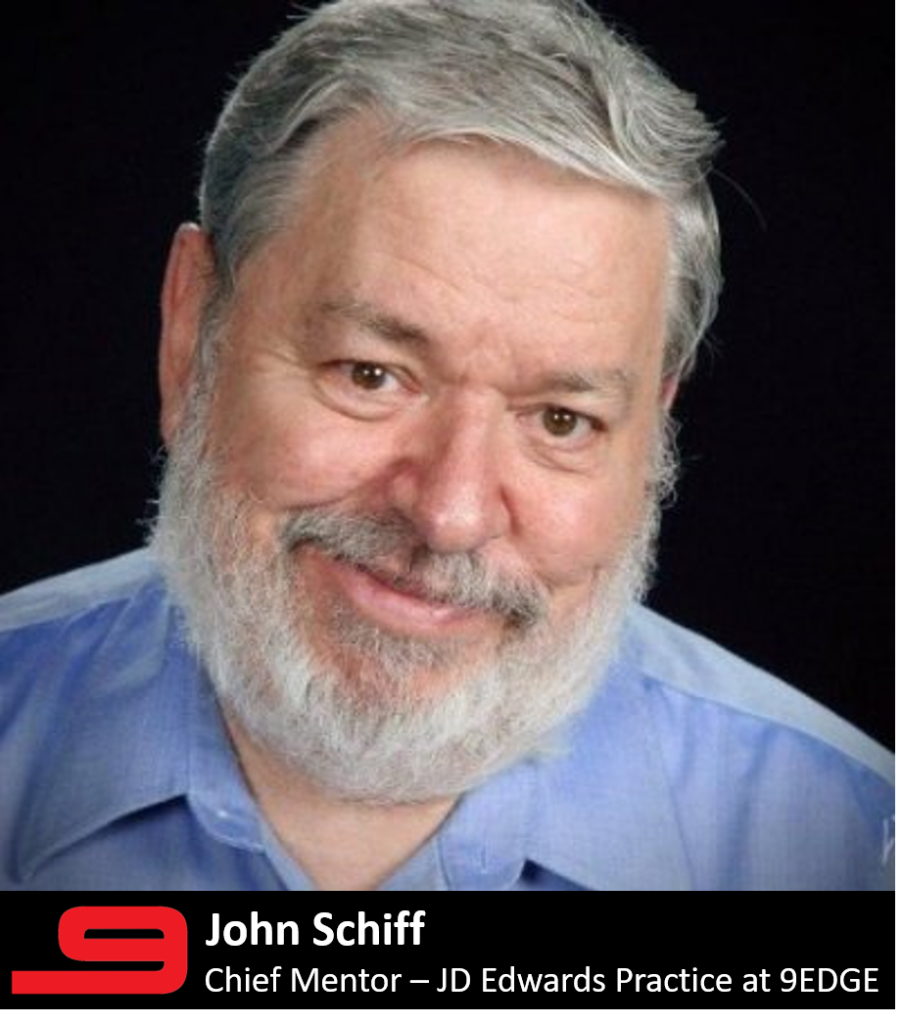 Welcoming John Schiff to 9EDGE as a Chief Mentor to our innovative Oracle JD Edwards practice.  John has been a long time key player in the world of JD Edwards leading in strategic planning, management, marketing, product development, as well as team development. His experience as Oracle's Vice President of JD Edwards Business Development and Vice President of JD Edwards World have propelled him forward in the industry making him the most sought after strategist. His vision for the JD Edwards community is prosperity and above all client satisfaction.
"I am excited to be able to advise 9EDGE and our mutual JD Edwards customers. Alongside 9EDGE we can look forward to a high degree of satisfaction in the community," mentions John Schiff
Dale Kaplan, Managing Partner at 9EDGE, commented, "John has been an integral part of the 9EDGE family since his first engagement with the 9EDGE founders through our extensive working relationship while he was at Oracle|JD Edwards.  John is a luminary and JD Edwards legend with his vast experience, knowledge of JD Edwards and Oracle, unmatched by few.   John will bring our customer base including future customers, a wealth of insight and comfort with their selection and continued usage of JD Edwards and Oracle software going forward.  We welcome John as an integral part of our 9EDGE Customer Advisory team and are already leveraging John within our strategic teams to provide that extra value to our customers."   Dale added, "John is more than a strategic advisor; he is a mentor bringing advisement, counseling, structure and strategic direction to both our customers and 9EDGE."
In line with 9EDGE's approach to supporting the ORACLE JD Edwards eco-system, 9EDGE announced that it will be participating as a major sponsor of the COLLABORATE 2017 Conference in Las Vegas, April 2 through April 6, 2017. The event is in its 11th year and is hosted by Quest, which brings together an international community of over 55,000 ORACLE JD Edwards, PeopleSoft and Cloud Applications users.   The community has proven to help ORACLE customers achieve high satisfaction with their ORACLE products by leveraging education, networking and advocacy in the user-led and user-driven community.  The timing of John's association with 9EDGE is pertinent given that he will be available to jointly meet with 9EDGE's customer's at this important customer event.  To schedule a time with John and 9EDGE, please contact collab17@9edge.co
About 9EDGE
Headquartered in Irvine, CA and with offices globally in Europe and Asia, 9EDGE is a leading JD Edwards technology services firm and value systems integration firms specializing in Oracle product and services.  9EDGE is an Oracle Gold Partner, re-seller and is specialized in delivering JD Edwards ERP and surrounding products, ERP Cloud and Supply Chain Management solutions globally.   9EDGE brings a unique approach to service delivery ensuring RESULTS.
Please visit 9EDGE's website at www.9EDGE.co or via email at info@9EDGE.co for more information.
9EDGE Welcomes John Schiff as Chief Mentor to their JDE Practice